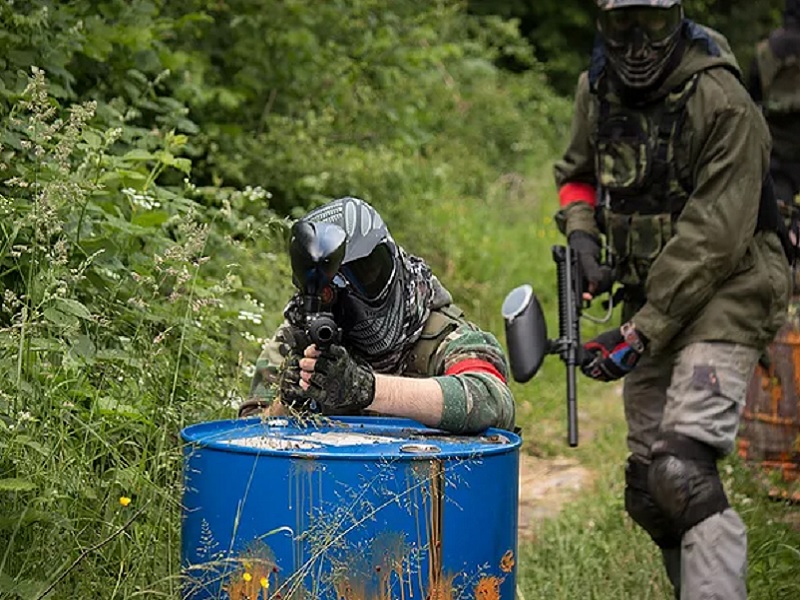 Description
Description of the measures put in place for the protection of visitors : Provision of hydroalcoholic gel Reminder of the display of barrier gestures 9 people or split groups (privatisation for groups) Take over only the children's paintball. Disinfection of helmets, face shields and launchers. Outdoor field of 3000 m² with net protection. Between Caen and Bayeux at 3kms from Courseulles-sur-Mer. Price includes launcher (child or adult), protective mask, faceplates and balls according to your wishes.
Sanitary information
Mise à disposition du gel hydro-alcoolique Rappel affichage des gestes barrières 9 personnes ou groupes scindés (privatisation pour groupe) Reprise uniquement du paintball enfant. Désinfection casques, plastrons, lanceurs.
Opening hours
From 01/01/2021 to 31/12/2021
Lu

Ma

Me

Je

Ve

Sa

Di

/

/

/

/

/

/

/

/

/

/

/

/

/

/
Closed on :
Additional opening :
From 01/01/2021 to 31/12/2021
Lu

Ma

Me

Je

Ve

Sa

Di

/

/

/

/

/

/

/

/

/

/

/

/

/

/
Closed on :
Additional opening :
From 01/01/2021 to 31/12/2021
Lu

Ma

Me

Je

Ve

Sa

Di

/

/

/

/

/

/

/

/

/

/

/

/

/

/
Closed on :
Additional opening :
From 01/01/2022 to 31/12/2022
Lu

Ma

Me

Je

Ve

Sa

Di

/

/

/

/

/

/

/

/

/

/

/

/

/

/
Closed on :
Additional opening :
From 01/01/2022 to 31/12/2022
Lu

Ma

Me

Je

Ve

Sa

Di

/

/

/

/

/

/

/

/

/

/

/

/

/

/
Closed on :
Additional opening :
From 01/01/2022 to 31/12/2022
Lu

Ma

Me

Je

Ve

Sa

Di

/

/

/

/

/

/

/

/

/

/

/

/

/

/
Closed on :
Additional opening :
Prices
Child rate : de_min 15,00€ à 20,00€
Base rate : à partir de 16,00€
Base rate : à partir de 20,00€